Caswell bay hosts a life saving weekend in good weather and small swells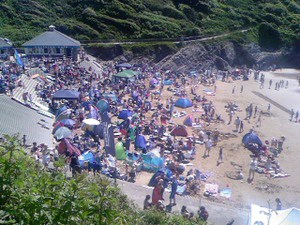 Well it has been a fun weekend here in Swansea, on Saturday we hosted the London surf club who came down for one of our surf lifesaving/surf response courses. The guys stayed at Clyne farm camp site after the course we had a barbecue in the setting sun enjoying the awesome views over Swansea bay. After a scrub up we all jumped in several taxis and hit the famous Wind street which was a first time for many judging from their facial expressions as we hit the main drag, seeing is believing!Then today at Caswell the Nipper carnival event was on with clubs from all over Wales including Mumbles SLC, Langland Bay SLC and Aberavon SLC as you can see from the picture above the beach was packed with family and spectators cheering the competitors on some as young as seven.
For more information on our surf incident/lifesaving tailor made courses can be geared towards clubs or we can offer the more formal qualifications such as the NARS Surf Coach Award click here: Surf lifesaving training with SurfGSD
All in all a very good weekend for Swansea and Surf lifesaving with thanks to Tony Jenkins, Tom Longden and Mumbles SLC.