Respect, to compare Tim's turns in sporting terms it's equivalent would be a Lennox Lewis punch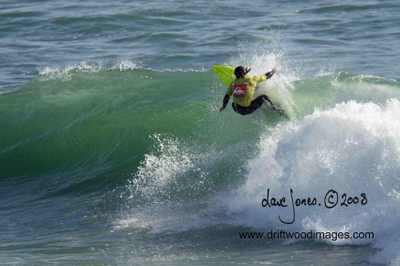 I have created a new category on this blog dedicated to top local hard core Welsh surfers that never feature in the glamour mags.  Even worse, it has been pointed out, the lack of support in some of the British main stream surf mags for Welsh surfing, Welsh surfers and Welsh Waves. Baring in mind that there are several waves lurking here in Wales that the Welsh wizard Ca rwyn described as among the best in Europe… Y Bocs, Outer Heads, The Ledge.
I hear the recent issue of Wavelength does not do justice to quality of surfing and waves seen at the Welsh Nationals held on the first weekend of May at Fresh Water West.  I am sure Dave will have plenty of shots for us to drool over in the next issue of Tonnau. p.s before Steve gets on the blower to me, I must say that Carve have run several articles on Welsh Surfing, thanks Steve.
This week's underground surfer is Tim Page.  I love surfing out Crab when he is in the water throwing buckets of spray everywhere.  Here are some shots with supporting text that Gower surf photographer Dave Jones has given me permission to use.

'Hi Simon, here is two shots of Pagey from the Welsh Nationals. One wave from his heat on the Sunday in the middle bay just b4 high water and one a couple of hours later. The contest shot comes from what I think was the highest scoring wave, not sure what he got but the crowd really did go wild. I thought the phoenix had been resurrected what a blinder from this solid little power house a man of few words who lets his surfing do the talking.
The free surf shot of Tim a notably quality left hander for which he smacked the lip with a vengence unfortunately the top turn is out of focus otherwise it would have been my sequence shot of the year.' Dave Jones Surf Photographer, Driftwood Images.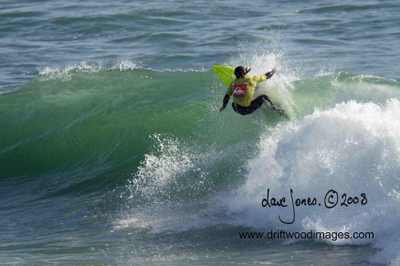 Tim is a powerful surfer always surfing in the critical sections of waves showing extreme power, skill and control… keep your eyes open for this pocket rocket next time you are surfing on Gower.

RESPECT, I was in the Vic bar having a pint with Tim and he told me that he had been down the reefs, sat on the cliff over looking PR's waiting for the tide to drop by himself, enjoying the peace when a load of guys turned up on mass, he tried talking to them about the waves and they just blanked him and walked off down the cliff. Tim simply got up and walked back to the car as he did not want to surf with them.
I felt sad hearing this as the guys that did not have the decency to show Tim respect would have benefited from watching him surfing.
It also reminds me of similar incident that happened to Paul Henry at Knelston petrol station when a car full of young surfers turned up alongside him and started taking the pee out of his board and him. Anyway, an hour later Paul and I are surfing on one of the reefs and the same young guys turned up. Paul, on his Holby 10 foot board turned to me and said watch this Simon, i am going to teach them respect. The guys spent the next two hours watching Paul surf and in the end had to say sorry to him to get a wave!
Thanks to Dai at Driftwood Images