Surf returns after a 10 day flat spell, have you got the right wetsuit on?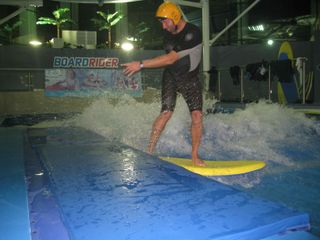 Yesterday Tom Fisher, Grandad and myself lucked into a private session out at the ledge and were treated to clean 3 ft plus waves. After the 10 days of cold winds and flat conditions I noticed a drop in the sea temp so time to dig out those 4 mil suits and boots.
In the evening I went  and surfed indoors (pic above).  Sporting just a shortie on for a bit of protection was a nice change from the full suit earlier.  There are so many wetsuit options on the market but I guess the three main suits that British surfers are interested in are: 2/3  full length, 4/5 full length and 5/6 full length for those surfing on the east coast and further North.
What wetsuits should you buy? Well for the last few years I have been wearing a brand leader, but have noticed that the quality of the product and life of suits are not what they used to be. With this in mind and also price in these hard times I will be trying out the Noir by Circle One this winter click here for information on it > Wetsuits