Stag and hen surfing/activity weekends on Gower staying in Swansea and also Newquay, Cornwall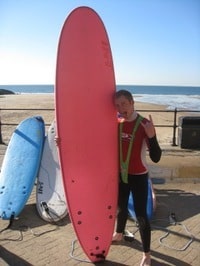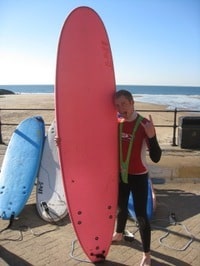 The hardest part of organising a stag or hen party weekend (after deciding the location) is getting a place to stay that will take your large group.
Most places are happy if they know that you are taking part in an activity with us the day, which means that you will not be in the pub all day!
Here are two quick links:
For staying in Newquay click > Places to stay Newquay 
For Staying in Swansea click > Places to stay Swansea
The booking of your surfing group session is really simple, we offer discounts to large groups starting at £30 for half a day to £40 all day including all equipment.
To book your group in we will need a £50 deposit paid and then full payment a week prior to your visit. To pay a deposit you can do so via this link, second option down click here > £50 group surfing deposit
If you would like to enquire about dates etc for Gower/Swansea or Newquay please email me click here 'last weekend of freedom
 Weekend prices range from £80 – £140 you can stay in Newquay or Swansea. (In Swansea we can also offer Celtic Roundhouse, tipi or yurt up to you.)
Here is a Borat stag, made to surf with a pink board and costume, later in the day he was made to surf with just the thong on which caused a bit of a stir here on Gower. Poor chap, I hate to think what happened to him in the famous wine street later. If you are currently looking for fun weekends for your stag or hen weekend we can help you, we offer one night or two night stays based in a four star hotel close to the action or you can camp, hire a yurt or a teepee.
The weekend trip would involve meeting at the hotel on the Friday p.m which is only a short walk from Swansea or Newquay train station, food can be arranged and the hotel bar is open late for residents.
Transport can be arranged which if requested will pick you all up on the Saturday morning after your cooked breakfast. At around 10/10.30 am pack lunch will be provided and off to the beach for the day. Surfing lessons in the morning for all, we can cater for various levels of surfer as we are a 4 star BSA surf school.  After the first session you can have lunch and then you have the rest of the day to  use our equipment and hang out at the beach.  The day usually finishes about 16.00 but can  wind up earlier or later upon request.


Apres surf, have a swim and a sauna then get your glad rags on ready for the big night out these girls on their hen party weekend decided to wear fancy dress, each to their own. We can arrange  other extras upon request to make your night magic for all attending.
On Sunday morning, you will receive a hearty breakfast before heading home.
If you fancy camping there are plenty of camp sites in Newquay and on Gower with the addition that in Swansea you and your friends can hire a yurt, tipi or Celtic roundhouse(nb swansea only) the prices start at £80 p.p 2-3 days (for a group of 10)   the campsite is based overlooking Swansea bay close to the beaches, Mumbles mile and a short taxi ride to the famous wine street. To secure your groups weekend email us for how to book, click here 'stag and hen activity weekends'
The pictures below show the Tipi and Celtic roundhouse. These are only on offer via our swansea surf school, in newquay, cornwall we can offer hotels and camping only.
We can even arrange for the girls on hen do weekends to have their hair done, make over etc at a mumbles hair salon, hairdressers, hair design centre