All surfers should be environmentalists to some form of degree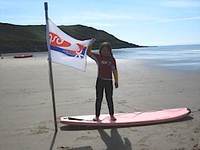 Surf GSD ENVIRONMENTAL POLICY as of 2007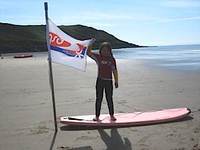 Think about future beach users, only leave your footprints on the beach…
Surf GSD is a surf school based in Mumbles, Swansea. Learn to Surf classes are held at Caswell Beach, Llangennith Beach, Fistral Beach (Cornwall), Mawgan Porth (Newquay). Also take people to the Algarve between October and end of November. Surf boards and kit are stored either in secure storage. Office activities are undertaken from a single laptop and electronic communications undertaken to reduce paper usage.
The organisation has minimal direct impact on the environment and consciously tries to minimise some of our impacts recognising that a clean environment is critical to the future of our business. The main environmental impact relates to clients travelling to get to the beaches.
The Company recognises its obligation to comply with all relevant environmental legislation and has regard for guidance notes made thereunder. In recognising these impacts, Surf GSD through its commitment to pollution prevention and commitment to environmental improvement will:
*Minimise, recover and recycle waste wherever possible;
*Minimise the amount of and environmental impact of energy used through the prudent use of resources and through the implementation of energy saving devices, such as energy efficient lighting, and using green electricity where possible;
*Encourage visitors to use public transport when coming to surf with Surf SGD;
*Train and continually update all staff in environmental issues.
The Policy will be subject to annual review and will be communicated regularly to all staff and made available to all interested parties.
Approved by:Simon Jayham (Managing Director)
Date Agreed: 11 September 2007S
View the entire comment thread.