Surfing is Good for the Soul, Heart, Health…..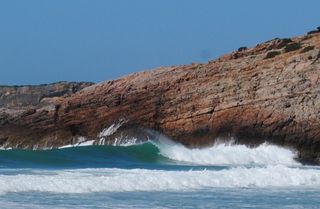 My first paddle out in a month (after getting nailed and hurting both hips on danger island) was at Zoro's point, a wedgy, body boarder-friendly place, with only one other surfer in the water I just knew that I was going to have to eat some SH** !
Which I proceeded to do for the whole session until my last two waves, when all of a sudden I started surfing again and my hips felt good. I rode my last wave through the nasty rocks on the inside and stepped off my board a new person; a very happy one that had just had his fix again. Surfing is addictive so don't start!
Anyway I walked back up to the girls and off we went to the next beach ten minutes away, more protected from the swell so Kentos could get in the water and have a surf whilst Millie and I looked on.
After an hour Kentos came in and her first words to me were > ' I may be no good at this but it will certainly get me fit..'
Then went on to tell me how good it was being out in the water with the sun shining, fish jumping and feeling free.  'It was like being in a surf movie watching the waves peel towards me and seeing that body boarder under the curl loving it..'
Millie had fallen asleep in the camping car after watching mum for ten minutes surfing , she was exhausted after kicking off about her milk being warm! She only likes cold milk from the fridge.  Which in the warmer climates makes sense I guess, but does present a logistical nightmare for us sometimes…
Tomorrow I am going up the coast to surf one of my fave waves affectionately called Harry's point which can hold large swells but is very rocky so the wipe outs are not so forgiving.  Kentos hopefully will get some shots and will I post them tomorrow.
For your information we are running several trips to the Algarve between October and December in 2011 for intermediate surfers to push themselves in more powerful waves if you are interested email us > simon@gowersurfing.com
p.s more algarve surf pics are on our flkr surfgsd click here > Algarve surfing pictures
Life's too short to pike… live, surf and travel!